Pet Portraits and Wildlife Art:
Quality and Value For Money at
Stray Cats Art – The Art of Steve Thompson

Hello and welcome to my website.
My name is Steve and I live in Winchester in the United Kingdom. I am an accomplished pet portrait and wildlife artist with over twenty years experience in drawing and painting beautiful pictures. I specialise in creating highly detailed, atmospheric works of art using mainly acrylic paints and graphite pencil.
The beauty with acrylics is that as well as being very versatile to use, they are fast-drying, they never yellow and can be diluted down to be used as a watercolour. This means if your painting is in direct sunlight it will not fade over time or yellow as oil paints tend to do. Also the vibrancy of the colours makes the painting fresh even in the subsequent years to come. It is an investment to purchase something that will last over time adding to its value and I use only the very best acrylic paints on the market.
I work on 'hotpress' watercolour board, which is what I've always used since I was an art student. I was introduced to this by my course supervisor and some of the freelance lecturers who helped develop my skills. This is a very rigid, smooth and absorbent surface which I have used for illustrations and commissions alike, using techniques such as airbrushing. Unlike watercolour paper it does not need to be stretched and will not buckle if it gets very wet, although heavier papers are thick enough to withstand moisture. It is ideal for the intricate, detailed work I put into my paintings.
For my pencil work I use a very hard '7H' to a very soft '7B' lead. This adds depth to a drawing giving a monotone image range from being very light to very dark creating a 3-D effect. The surface I use is a very thick, smooth cartridge paper. When I use the very soft pencils I lightly spray an aerosol fixative over the drawing to prevent smudging and it seals the picture once completed.
My artwork is built up in layers of tone and colour, gradually revealing the complexities of my subject matter in all its grandeur. This can be seen below with past commissions using the original photographs loaned to me by my clients and the finished paintings.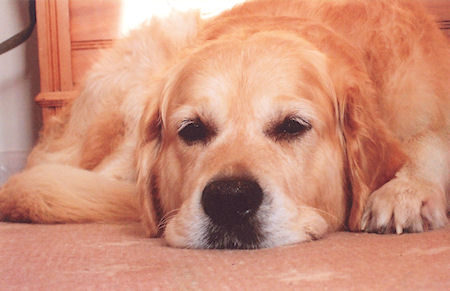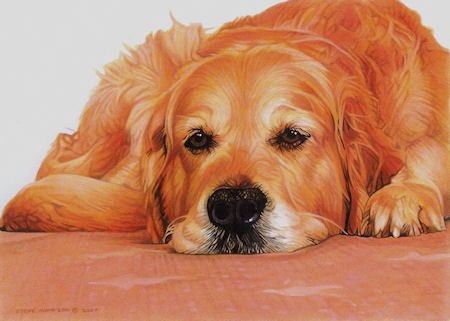 I've made 'Dave the Dog', as he is known, a little brighter and more vibrant than the original photo, as this was the brief I was given to make him more colourful and to have his personality shine through focusing the attention on his eyes. I removed the background as it just clogged up the composition. This is not a direct copy of the photograph, but an enhancement, resulting in a successful painting with a very happy client.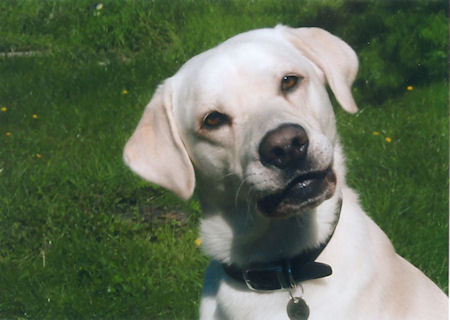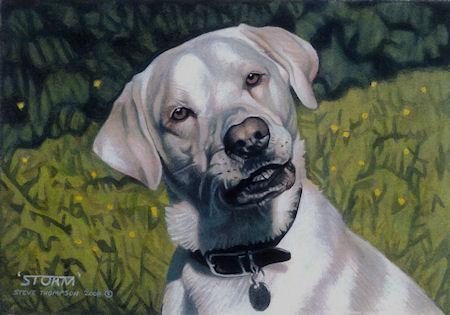 This same result is evident with 'Storm', where there was not much colour with him being almost white, so I focused on tone making his eyes the focal point, leaving the background more abstract. Again, I had a very happy client who paid me extra, feeling that I had undercharged him.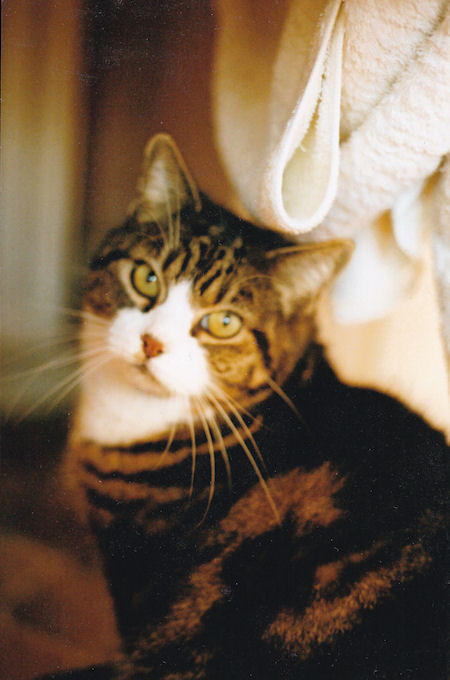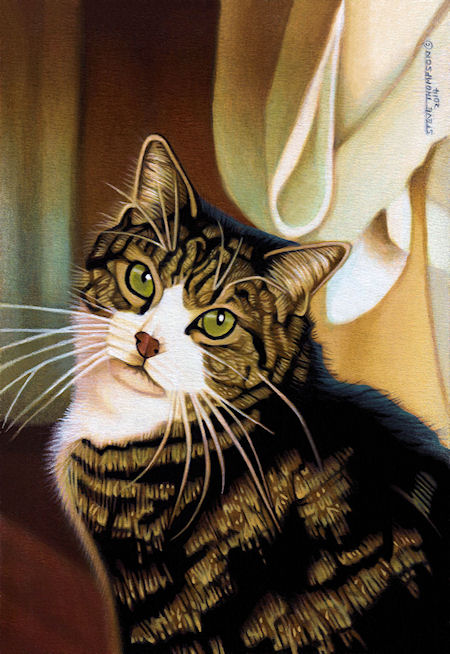 Here with 'Mischief' I've taken a different approach. I was supplied with an abundance of photographic references, but the one I chose for the painting captured that look, especially with the eyes. The other photographs showed his true colouring with the eyes more green, which I've captured in the painting, whereas in the photo I worked from the lighting is quite yellow giving a false colour. The background I thought about removing, but I decided to keep it which enhances the painting. I've tried to get the colours as true as I can and the comments I've received from the client and their friends is that it's definitely him!
View my prices and commission a pet portrait by emailing me your favourite photo so that I can bring it to life in my unique style. Alternatively, if you see anything else that inspires you feel free to contact me, as it is not just pets that I draw and paint as you can see in the subject links below. These same prices are not restricted to just the pet portraits, but standard for everything else that I do. You will find it hard to find anything else on the web that has the quality and value for money that I have to offer.
Click onto the links below to view more of my work:
Browse through the Paintings
Please feel free to browse my website and look through the paintings. Many of which are for sale and I also work on commission so please use my contact page to get in touch or alternatively send me an email to: steve@straycatsart.com or phone me on my landline: 01962 854751 or my mobile: 07887893311.
The biggest compliment I've received is from the world renowned
wildlife artist David Shepherd
. My artwork was shortlisted from hundreds of other artists to be exhibited and auctioned for his charity
'Art for Survival Wildlife Auction' at Christie's
, South Kensington, London in May 2007:
"Your 'Meerkats' made a super addition to our show, and we are delighted it sold. It certainly helped make the whole exhibition absolutely superb."